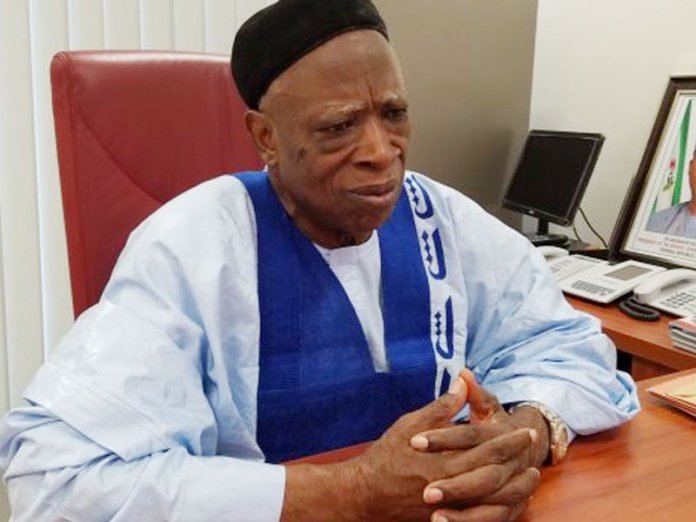 Adamu Meets APC Senators, Says He is Worried By Gale of Defections
National Chairman of the All Progressives Congress (APC), Senator Abdullahi Adamu, met with senators elected on the platform of the ruling party behind closed doors, yesterday in Abuja.
Speaking with journalists after the meeting with the APC caucus in the senate, Adamu said the party was worried by the gale of defections among senators. He however, said it was a usual occurrence in election periods and not peculiar to the ruling party.
Two senators from Bauchi and Imo states resigned their membership of APC and PDP, yesterday, further compounding the woes of their parties.
That was as other senators from the ruling party, who were said to have planned their defection for next week gave conditions under which they would halt the trend. They said only justice could reverse the gale of defections currently rocking the party.
A chieftain of the APC and former Minister of Aviation, Femi Fani-Kayode, hinted that no fewer than 22 more APC senators might dump the party for the main opposition PDP soon.
Similarly, the new Senate Minority Leader, Senator Philip Aduda, yesterday, boasted that the opposition PDP would soon form majority in the senate if the gale of defection by APC senators was sustained.
In a related development, Lagos-based lawyer, Mr Femi Falana, SAN, insisted that the Independent National Electoral Commission (INEC) was empowered by both constitutional and electoral provisions to reject the names of candidates from political parties that ought not to be on the ballot in any election.
Speaking after addressing the senators yesterday, Adamu said, "The meeting with the senators was most fruitful. The issue of defection is an unfortunate development, when it happens, but this is a season where there are all sorts of behaviours in the political space and ours is not an exception. In every election year, this kind of thing gives cause for stakeholders to sneeze and Nigeria is not an exception, so is the APC not an exception.
"I don't care about what is happening in other parties, my focus is on the APC. But we all know that the occurrence is not only happening in the APC; it's happening across other political parties, too. And because we are the ruling party, our problems are exaggerated before the public."
The APC chairman said he did not know if the problem of defection was surmountable.
He added, "There is no responsible leader that would not be worried, when he loses one member, not to talk of two. At the moment, we are faced with the stark reality of our problems.
"I have committed my colleagues at the National Assembly to face the problem squarely and see the problem as solvable. We are in politics, I don't know what would happen tomorrow, and nobody does."
Thisday