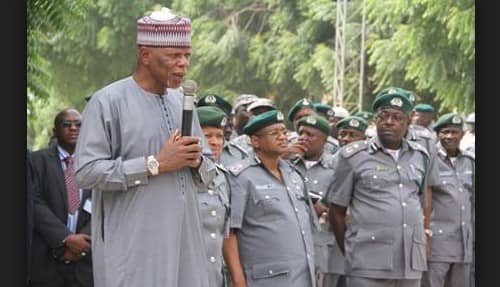 How Hameed Ali-Led Customs is Using Technology To Outsmart Smugglers
February 5, 2022
0 Comments
The Comptroller General of the Nigeria Customs Service, NCS, Colonel Hameed Ali, Rtd, is using advanced technologies to outsmart smugglers' techniques in concealing contraband products across the borders into Nigeria.
This was the disclosure of Comptroller Joseph Attah, Customs spokesman, who played host to a team of the National Association of Online Security Reporters, NAOSRE, led by its President, Comrade Femi Oyewale in Abuja on Thursday, January 3.
Speaking with NAOSRE team, Attah emphasized that smuggling is a national menace which the Customs Service, under the leadership of Alli, is determined to erase from the country's list of crimes.
Attah described smuggling as the mother of all crimes, explaining that "Smugglers are the agents responsible for the proliferation of illegal arms in the country which fuels banditry, kidnapping and other forms of insecurity.
"Also, smugglers are responsible for the preponderance of fake consumables including fake drugs in the country which partly renders health care services ineffective.
"Therefore, you can understand the reason we classify smuggling as the mother of all crimes. In carrying out their nefarious activities, they have gone sophisticated in concealing contraband goods in great measures and in several ways.
"To outsmart these anti peoples' agents and nip their operations in the bud, the Comptroller General, last year, acquired three scanners which have been deployed for use in strategic ports across Nigeria.
"We are going to have more scanners. There is synergy with other sister security agencies for effective border patrol. Customs processes are now automated because automation is the way to go in meeting revenue target and degrading smugglers," he stated.
In addition, Attah said the Comptroller General is also concerned about the safety of its personnel in the course of duty and has procured several rugged, all-terrain operational vehicles fitted with gun turrets as well as machine guns to protect officers against smugglers onslaught.
He therefore, called on citizens to lend necessary supports by volunteering timely information to the Customs Service for effective arrest of criminals who import fake products and illegal arms.
Attah noted that Customs initiatives, over the years, would not have been successful but for media supports. He particularly applauded NAOSRE, saying "I have been following your activities and your passion for a secured Nigeria. You are a good example of how to support security agencies to achieve safer Nigeria. We are happy with NAOSRE because you share our vision for a secured Nigeria. We hope you will continue to sensitize Nigerians about the danger of smuggling," he advised.
Earlier, in his remarks, NAOSRE President, Comrade Oyewale explained the rationale behind the visit, saying it was to thank the Comptroller General and his officers for the supports extended to the association in the past years. He promised that NAOSRE, under his leadership, will continue to render impactful media coverage to security agencies and externalize their great efforts to achieve a safer Nigeria.