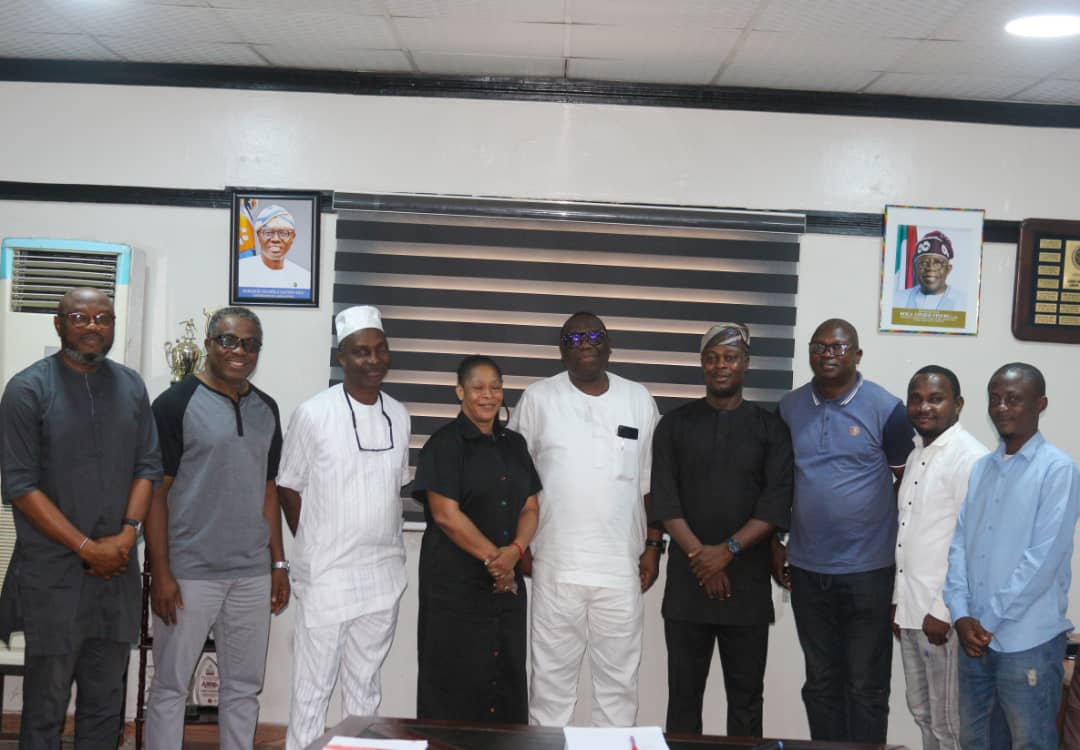 LTV, LSFA to collaborate in promoting football in Lagos State
September 8, 2023
0 Comments
The Lagos State Football Association led by its Chairman, Ogboni Fouad Oki on Thursday paid a courtesy visit to Lagos Television.
The LSFA's visit, amongst other objectives was to extend a hand of fellowship to the management of the foremost state owned Television and seek support towards programs and activities of the board.
Oki said his board is ready to work in tandem with the indigenous station to build a sustainable foundation for a vibrant football industry and culture in order to make Lagos the leading sports destination in Africa.
"Sports reportage in Lagos has alway been through LTV and when you talk sports in Nigeria, it's Lagos, not just because of the population, more because of the passion. Today, sports and football in particular is going down and we are trying to apply CPR to bring it back and begin to help the sector to again, regain the stage that he should be. One of the way to do it, is to collaborate in bringing to various homes, Football from the nooks and crannies of Lagos State and if there's any television station that can do justice to that, it's the people's station, LTV".
Oba Cup, Ibile Cup, Principal's Cup, Junior League and Street Soccer are some of the tournaments the LSFA is planing to organize to engage the meaningfully and regenerate development from the grassroots, Oki explained that through collaborative partnership, both parties will can generate revenues.
"Football has gotten into the era of big business, the just concluded FIFA Women's World Cup in Australia and New Zealand, the TV right alone was in the region of 220 million U.S dollars. In our clime, it's coming at zero cost to the FA and that negatively impact on the players and the clubs. It also negatively impact on LTV with its comparative advantage and its reach. So, for us to develop football, we must work together, we must take football into the homes of every Lagosian either by streaming on social media or conventional media and this is why we are here and I therefore urge you to take advantage of our offer and let's work together".
General Manager, Lagos Television, Adesola Kosoko thanked the members of the LSFA sfor the visit as she assured of the station's collaboration to revive football in the center of excellence.
"Bringing the Street Soccer and all other activities of the LSFA to Lagos Television has added an extra feather and given me more strength to go through. Content is key and what the LSFA is bringing is not just content but also opportunity to generate revenue for the station. So, I want to promise you that I'm wholeheartedly accepting this partnership and willing to work on this project with you. It will be of great benefit to us, to you but most importantly to Lagos' that is the reason we are here. This is Lagos and we will proclaim, celebrate and let the World know what Lagos is made off".
The LSFA Chairman was accompanied to LTV by chairman of the Street Soccer Committee, Mr Bolaji Yusuf and members; Yomi Kuku, Phemmy Adetula, Deji Aladegbemi and others.