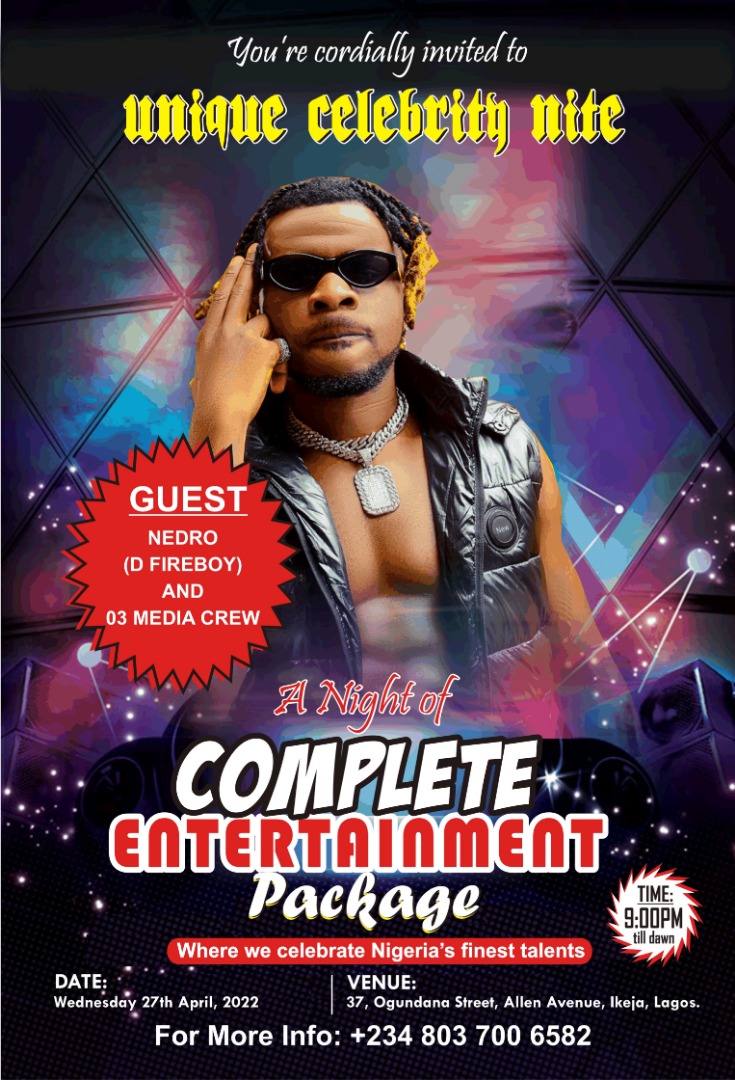 Nedro warms up for 'Unique Celebrity Nite' honour 
April 10, 2022
0 Comments
Sensational Afro-pop singer, Mamah Stanley Emeka popularly known as Nedro (D Fireboy), is currently warming up to grace this month's edition of Unique Celebrity Nite as a special guest. The multi-talented singer will be hosted alongside crew members of 03 Media, a top notch entertainment outfit.
Unique Celebrity Nite is a night of complete entertainment package where Nigeria's finest talents from all walks of life are celebrated every last Wednesday of the month. It will hold on 27 April, 2022.
The monthly event is hosted by Unique Gentlemen's Club, located at 37, Ogundana Street, Allen Avenue, Ikeja-Lagos.
Speaking on the choice of Nedro and 03 Media Crew as the special guest of Unique Celebrity Nite, the Chairman, Mr Tony Ojo, said the honour is overdue.
"At Unique Celebrity Nite, we strictly celebrate unique people, who have broken barriers and carved a niche for themselves. Nedro perfectly fits into this category because we have been monitoring his progress over the years. He's a unique and outstanding talent.
"On the other hand, we are all aware of the exploits of 03 Media Inc. an entertainment company that has effortlessly promoted Nigerian culture and artistes all over the world. Many A-list artistes have benefited from their international tours. It's payback time for their hard work and diligence," Mr Ojo said.
Nedro can simply be described as a complete entertainer. With his excellent vocal ability, electrifying stage craft and appealing physique, he is definitely a star to behold.
He has performed on big stages within and outside the shores of Nigeria and has worked with the likes of Patoranking, Skuki, Tosyn Bucknor (now late) N6 and DJ Secxy to mention a few.