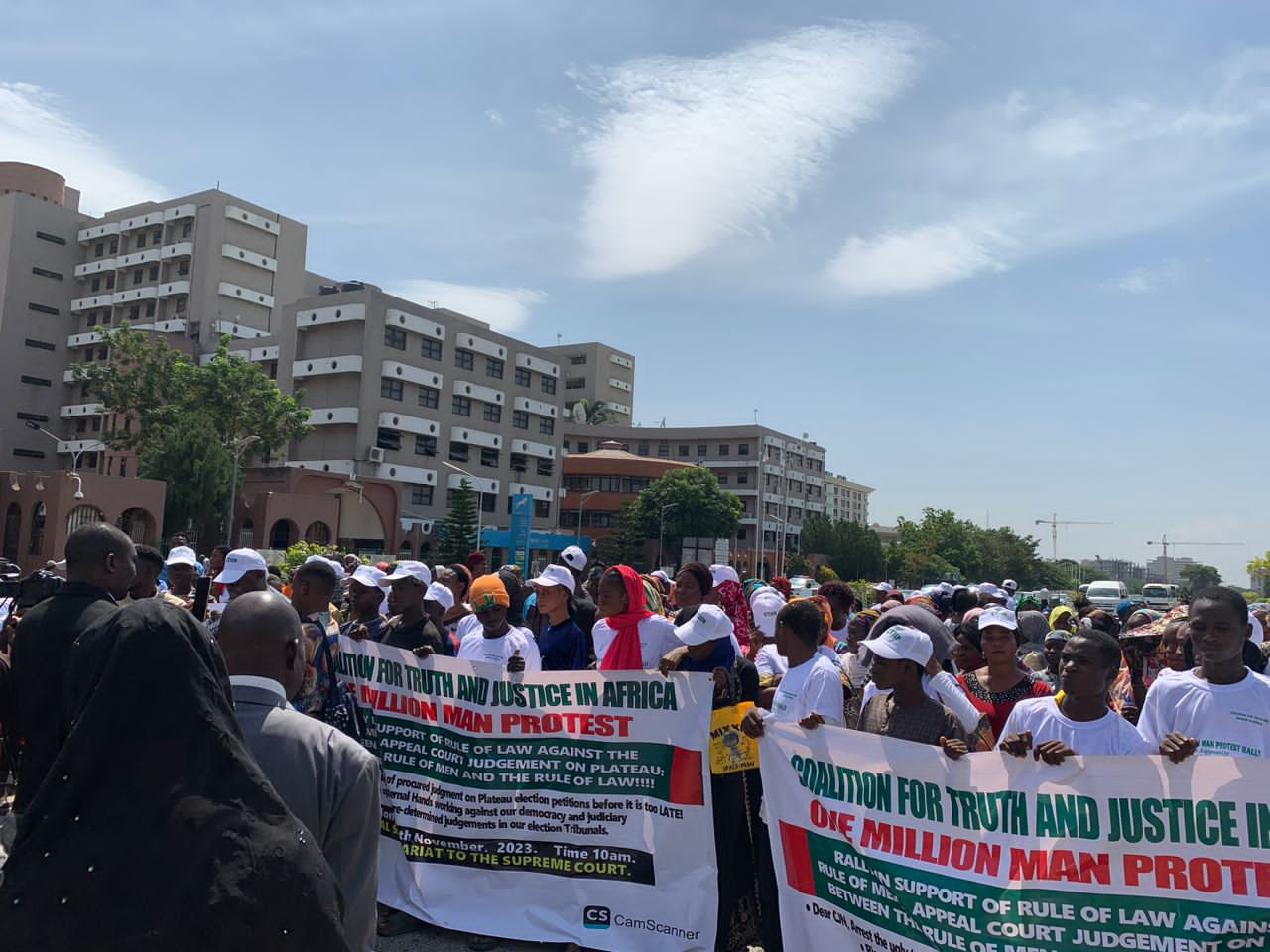 Sacked Plateau Lawmakers: Thousands Take Mass Rally To Supreme Court, Submit Protest Letter To CJN
November 14, 2023
0 Comments
Over 1, 000 Nigerians under the auspices of Coalition for Truth and Justice in Africa have held a peaceful rally to the Supreme Court, Abuja, to protest the Appeal Court judgements sacking some People Democratic Party, PDP, lawmakers in Plateau state, from the National Assembly.
Dr. Daniel Okwa, National President of the body said political developments in the state is indeed worrisome and calls for concerns from all well-meaning Nigerians.
According to him, democracy is indeed under threat, if such anomalies are allowed to stand.
In a protest letter to the Chief Justice of Nigeria, Justice Olukayode Ariwoola, the organisation accused some All Progressivea Congress, APC, of claiming some seats in the National Assembly through the courts amd it turned out to be so with the Court of Appeal decision sacking some lawmakers from Plateau state.
Parts of the letter to the CNN read, "The Coalition for Truth and Justice believes that the judgment of the Appeal Court in Abuja is a case of injustice, else, how could one explain a situation where lawmakers of the All Progressive Congress (APC) would boast and predict the outcome of the Court of Appeal judgment even before the pronouncement.
"This is unacceptable and indicates that the justice regime in Nigeria has been thrown to the dogs. What happened in Plateau State is an aberration of immeasurable proportion. There is a distinction between a pre-election matter and a post-election matter.
"The Supreme Court has established this fact on several occasions. It is now a wonder why the Appeal Court would act otherwise and in a despicable manner that tends to truncate our nascent democracy.
"The Coalition for Truth and Justice entirely condemns the actions of the justices of the Appeal Court that sat in Abuja. They displayed insensitivity to the electoral choices of the people. This is a worrisome trend that the Chief Justice of Nigeria must address.
"This is on the heels that the Judiciary, the world over, is regarded as the last hope of the commoner. This presupposes that it is the only place the commoner can get justice. The function of the Judiciary is not to twist the truth or fabricate facts but to interpret the law. The consequence of the interpretation of the law is justice.
"However, what played out in Plateau state negates the Judiciary's position as the common's last hope. The Judiciary is for sale to the highest bidder in Nigeria, if such positions could be taken without recourse to the implication of such on the psychological state of the people.
"The Coalition for Truth and Justice is using this protest to drive the point that justice in Nigeria should not be reserved for a section of the country or any political party. What happened in Plateau should not be allowed to stand or repeat itself. The implication of such is that the reputation of the judicial arm of government would be eroded."