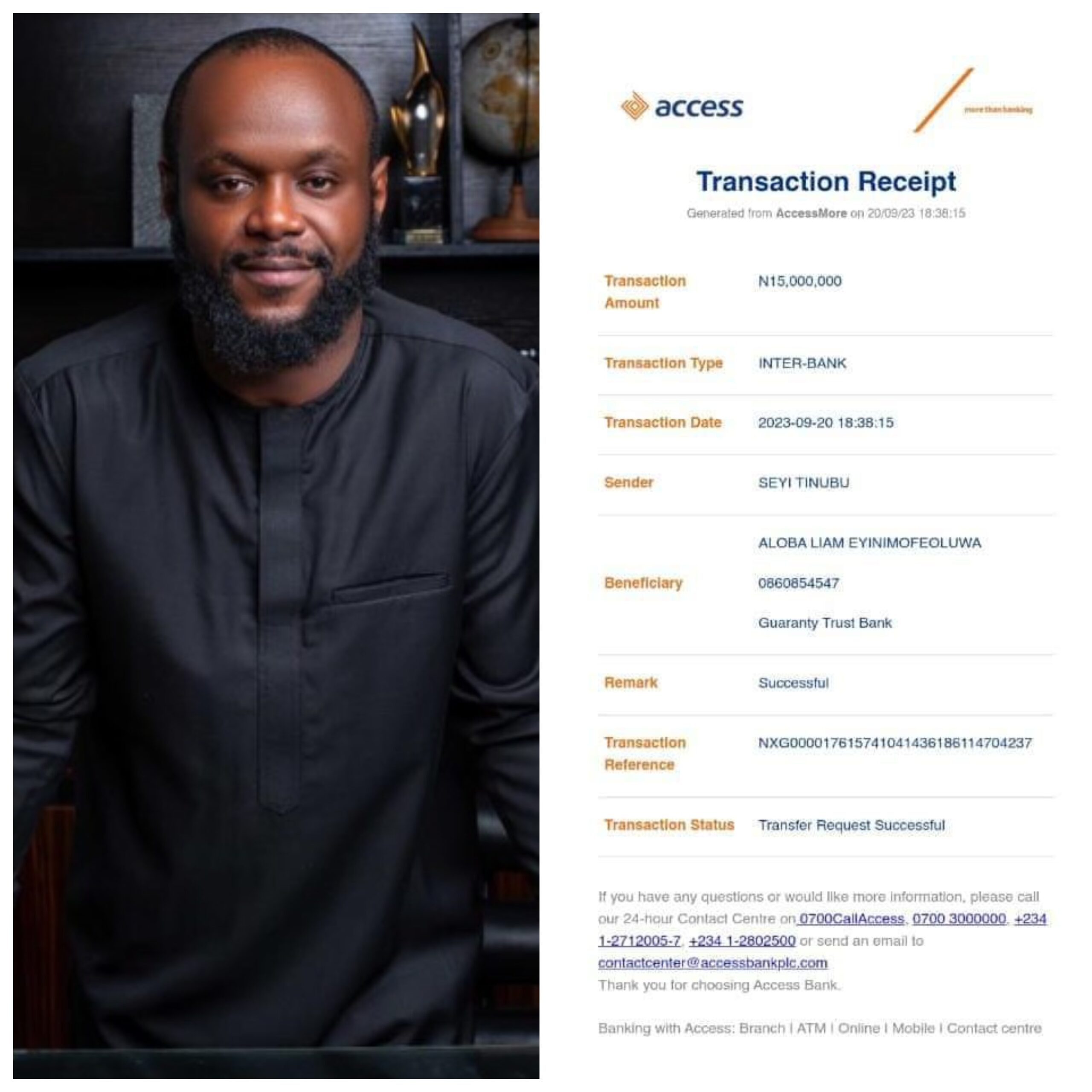 Seyi Tinubu sends N15m to MohBad's son, Liam
September 21, 2023
0 Comments
Seyi Tinubu, son of President Bola Tinubu, has transferred N15m to Liam, son of late singer, Ilerioluwa Oladimeji Aloba popularly known as MohBad, who passed on Tuesday, September 12.
Although the transaction receipt date shows September 20 with no narration as to what the money is for, it was announced by the Special Assistant to Tinubu on Social Media, Olusegun Dada, on Thursday, September 21.
Sharing the reciept, Olusegun said: "The figurative apple that did not fall far from the tree #RIPIMOLE. Thank you ST❤❤🙏🏿"
Netizens have since reacted to the new information with some worrying that the funds not be mismanaged.
Omotayo of Lagos wrote: "Seyi Tinubu sent the sum of 15 million naira into Mohbad son's account this morning, one thing is certain, that boy is definetely going to have a better life while growing up, i just hope and pray that those who are in charge of the account don't mismanage all the funds."
Popular crossdresser, Bobrisky also wrote: "First Son of Nigeria, Seyi Tinubu gifts Mohbad's son, Liam, 15m Naira. God bless him 👏🏾"
"I supported PBAT, and I am still a huge supporter of him. But please, I think the first son must understand his position, and keep a few of his dealings off the press. It will do his father's position some good," Emeka wrote.
Speaking about his fears, Classik wrote: "The biggest fear am having I hope the families will take care of his son with all this money🙏"
"What is his net worth that he is donating such amount of money?" Otuekong Akwa Ibom asks.